1966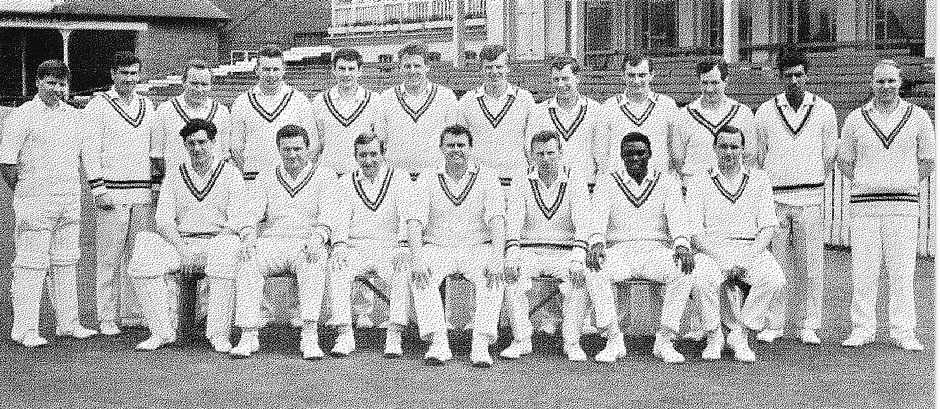 1966 Report Of Committee
by H.T. Milnes, Chairman

Last year's reported started with these words: 'The 1965 season, taken as a whole, was one of the most disappointing in the history of Notts Cricket.' Judged by results the same could be said of 1966. True we occupy the most unenvied position in the Table, but there are some brighter prospects for the future. A young and inexperienced side – given proper guidance which can only come from the skipper and the coach – ought to mature.

In Norman Hill we found a leader. Our members as a whole may see little of the internal workings of the Club, but those who visit the dressing room or meet the players in their leisure hours cannot but fail to recognize the strong morale which now exists in the side, due in no small measure to this dedicated Nottinghamshire cricketer.

Oddly enough, individual records belie our lowly position. Carlton Forbes' performance – again he collected 100 wickets – was one of sustained individual effort. Indeed virtually our entire attack rested on his shoulders. Brian Bolus, Michael Smedley and Ian Moore topped the 1,000 runs and two last-named should provide a sound middle-of-the order batting strength for several years to come.

Roy Swetman (whose wicket-keeping was admirable and whose batting was a great asset) and Bob White proved to be valuable acquisitions and the latter's development into a very competent off-spinner gives great hope for the future.

Barry Stead proved himself a great trier and bowled well as the season came to a close and Michael Taylor is an all-rounder of promise. Last but by no means least Deryk Murray who proved so valuable at the end of the season has agreed to play for us full-time next year and at the time of going to press we are eagerly awaiting the extension of his temporary registration from M.C.C.

Penetrating bowling is at the moment our weakness and as a first step to remedy this we have recruited Peter Watts from Northampton, a leg-spinner. But what we need – and indeed what England needs – is a pair of break-through opening pace bowlers of the stamp of Larwood and Voce. We are losing Ian Davison, whose business commitments force him to resign and to him we wish to extend our thanks for several years of solid and persevering endeavour. Also leaving us are Keith Gillhouley – unnecessarily pilloried for his action – Mervyn Winfield and Barry Whittingham. To all of them we extend our best wishes for their future.

Once again the Second XI deserve our hearty congratulations for their performance, as too do the Colts who succeeded in winning the Popkess Knockout Cup. This is perhaps the most encouraging feature of our efforts this season and our thanks are due in great measure to Johnny Clay, Mervyn Winfield and Brian Wells. With the reduction that we must inevitably bear in our playing staff due to financial stringencies, it is good to know that we have a promising number of reserves to rely on. We must also thank many Club players who often at short notice turned out to help the Second XI, on some occasions sacrificing part of their holidays; their assistance is invaluable as in this department we shall rely on – and indeed in the Colts' future fixture lists intend to develop – a much closer association with the Clubs of the County.

It is a matter for regret that so few of our members come to Trent Bridge to watch and support the efforts of our younger members.

Two vacancies will occur on the Committee by reason of the resignations of Wilfrid Miron and Gordon Watson-Smith. In addition, prior to last years' Annual Meeting, Bill Voce also retired. The services of Miron and Voce's contribution to our Cricket needs no telling.

Our President, John Barber, resigns this year having fulfilled the normal two-year span of office, after a term of 8 years as Chairman of the Club. It is indeed a great shame that after having done so much for the Club, his presidential years should have occurred during the worst spell of its fortunes, but at least we can say that Notts had one of their best Presidents ever over this period. At the Annual Meeting a resolution will be proposed to elect him an honorary Vice-President of the Club, and to succeed him in the office of President your Committee propose the name of Ralph Forman whose long service and efforts on the Club's behalf are too well known to need amplification.

That the pattern of County Cricket, if it is to survive, must undergo drastic changes has been widely canvassed and is at least even being appreciated at Lords. The process of change may be slow but as a first measure your Committee pressed strongly for a relaxation of the present restrictions on the engagement of overseas players. Their new proposals met with a gratifying measure of support from certain of the other Counties but unfortunately they were rejected by the Advisory Cricket Committee who in consequence incurred severe criticism from the Press. Sunday cricket, another innovation, got off to a good start, although we ourselves were unfortunate with the weather in our two fixtures last season.

In the coming year we have asked all our opponents who will be at Trent Bridge over the weekend, save on the Bank Holiday weekends, to play on Sunday and again we hope for reward response. Next season, too, we are again staging a home fixture both at Worksop and at Newark and for the facilities and hospitality they provide, we are most grateful to the Worksop Club and to Ransome and Marles Ltd respectively.

The biggest attraction last season was, of course, the Test Match and it proved an unqualified success, breaking all records in the way of takings and while our sincere thanks are due to our West Indian visitors, they are also due to Frank Dalling and his staff for providing – as indeed they did throughout the season – a perfect wicket. At the start of the season MCC request all Counties to provide fast, true wickets and yet ourselves the notable exception almost all Counties failed miserably to do so. Whatever criticism there may be of the playing staff, the ground staff earned repeated praise from all our visitors for the wickets they provided.

Financially – but mainly due to the Test Match – the season can be described as successful. But here a very clear wearning must be sounded. Not until 1970 shall we enjoy a major Test Match at Nottingham and our resources will consequently be strained during the interval to the utmost. For the help that we receive from the Supporters' Associations we are most deeply grateful. We welcome, too, the foundation by Frank Woodhead of Nottinghamshire Cricket Development Association and we wish it the greatest success. Your Committee will always give their utmost support and collaboration to these two organizations. But the vital thing in the years that lie ahead is the preservation of our membership and from now on it is of vital importance that the County team provides the attractive and entertaining cricket to hold and if possible to increase our membership numbers. This will be the main object of your Committee during the coming seasons, and we realize only too well that the only way to maintain the membership is to build up a more successful team.

To our Members we again renew our thanks for their for their support and again we would stress that each and every member of the Committee is only too ready to discuss with them any criticisms, ideas or suggestions in connection with Trent Bridge and its affairs. To our Playing Staff we extend our thanks for their efforts and our earnest good wishes for the season to come.
Image Library
Related Articles
Tags
Links
Players